The ISEP program represents a network of more than 300 universities in some 45 countries , the main purpose of which is to make studies in the USA or other member countries more accessible to students in this network. Mainly focused on studying in the United States with 145 American universities, it allows hundreds of students to study abroad every year.
Visit the official ISEP website for more information.
ISEP, the steps to take to benefit from the program:
---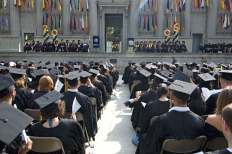 The steps are done in several steps, explained on the page " Applying to a US site ". There are several rules to follow that you must discover and read carefully, but the main advantage of this program is that you can apply to nearly 10 different American universities, in the order of preference of your choice, which optimizes your chances of leaving.
Students must also take an English test to validate their level. It seems that the IELTS and the TOEFL are accepted, but that the TOEFL is more recommended. More information on the requirements of universities on this page . In case you speak Spanish, it is also possible to go through this program without having to prove your level of English, and take courses in Spanish. The advantage is double, if you did not have enough English, you can still leave, and once there, you practice both Spanish and English!
The benefits of the ISEP program:
---
There are two types of ISEP program , one in exchange between students from two universities, and one where only the French student leaves for the USA. In both cases, registration fees are much lower than a normal year in the US, although the second option is less advantageous. Nevertheless, the savings achieved remain very important. Consult this page as part of a student exchange , and this page if you leave alone.
ISEP, French universities and schools having integrated the program:
---
The network includes mainly universities , but some business schools and IUP have also joined to facilitate study abroad for their students.
University of Savoy
University of Le Havre
University of Maine (Le Mans)
Jean Monnet University of Saint-Etienne
Paul Cézanne University (Aix-Marseille III)
Paul Valéry University (Montpellier III)
Sup de Co Amiens Picardie
Institute of Political Studies of Rennes
National Institute of Applied Sciences of Lyon
Lille III (Charles de Gaulle University)
Pierre Mendès France (University of Grenoble II)
University of Angers
University of Caen
University of Franche-Comté
University of Nantes
University of Nice
University of Picardie Jules Verne
University of Rennes 1
University of Rennes 2 (Upper Brittany)